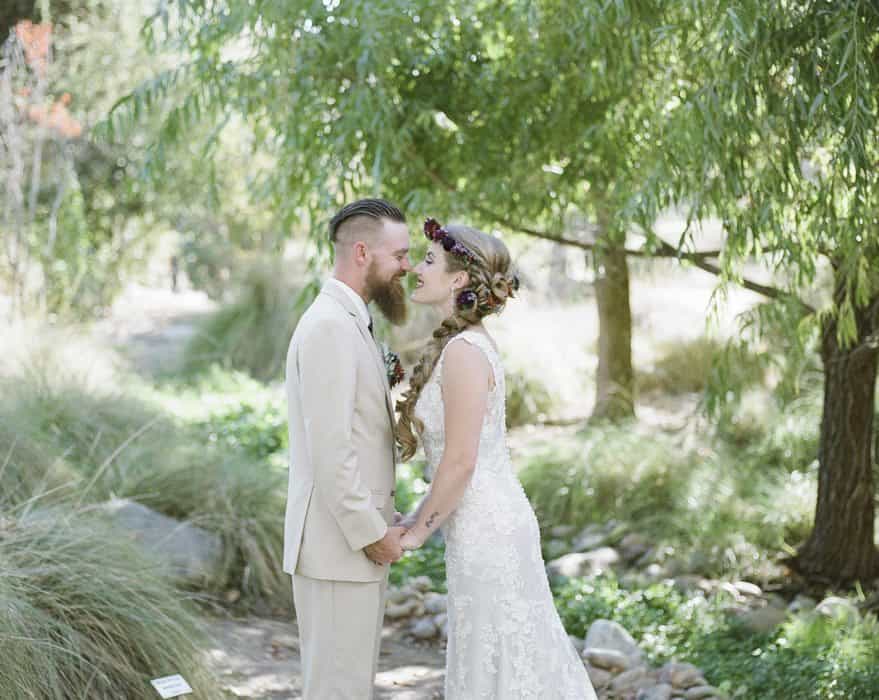 Alana and Andrew got married at CALM, one of Bakersfield's secret gems. The ceremony took place under the most magical gazebo, surrounded by friends, family, and some wild animals.
The venue was so unique and allowed so much versatility as we were shooting. I decided to use film for this occasion and could not have been more pleased with that decision. As we travelled through the zoo, we found tons of nooks and crannies that were absolutely stunning and the lighting was just perfect for film!
Though the venue was amazing, you should have seen the bride. Alana's hair was beyond gorgeous. It reminded me of Rapunzel (one of my favorite princesses): it was the most beautiful blonde with flowers cascading down it! I mean, who wouldn't be obsessed with that hair? As if her hair wasn't enough, she was in a low back lace dress that looked so perfect on her. In true fall style, Alana's flowers (both in her hair and bouquet) were beautiful shades of purples and oranges.
Andrew and his groomsmen we adorned in tan suits and could not have been more handsome. I loved this color because it was a perfect choice for an outdoor fall wedding and it played off so well with the color's of Alana's flowers.
Shooting this couple was beyond fun. From the choice of the venue, the amazing styling, and the magical lighting, it was a blast. However, the best part of this couple was their laidback vibe and radiating love for each other.
Congratulations Alana and Andrew!