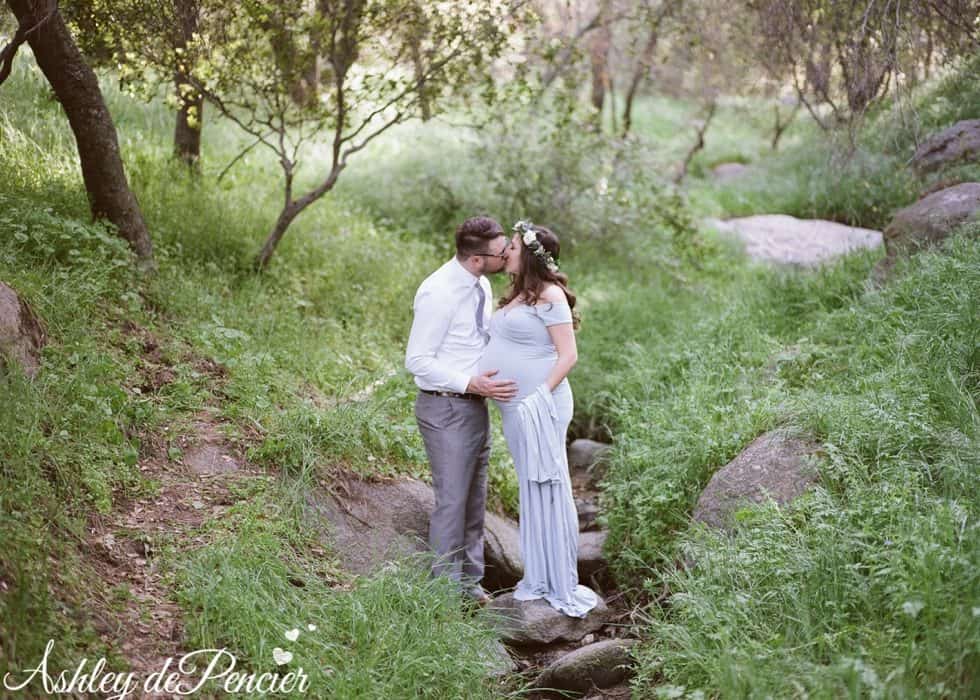 Alyssa and Scott are my cousins on my husband's side of the family. They don't live in town, however, they were home for Easter and Alyssa asked me to do their maternity photos. I was BEYOND excited to do them! Maternity photos are always so much fun, especially when it's family that I get to photograph!
For the photos Alyssa wore a long light blue maternity dress that had a full train. It was absolutely stunning on her. She had a flower crown and the prettiest bouquet, courtesy of House of Flowers. Scott was in gray dress pants, a white longsleeve button up, and matching tie. They were just so cute together….as always!
We went out to my cousin's property in Keene, CA..it is seriously one of my new favorite places to shoot. I ended up shooting almost all film for this session because the light and location were too perfect not to. The light was so soft and subtle and the sunset was just magical. We had help from Alyssa's sister Erin…she was a pro at helping me style the gown.  We had a great time hanging out and taking photos. Alyssa was a total champ…at seven months pregnant, got up on a rock in the middle of a bunch of wild grass just to get some photos!
I am so, so excited to meet our new baby cousin. His birth will be a great excuse to travel to Utah to visit, or maybe take some newborn photos!  Congrats Scott and Alyssa!