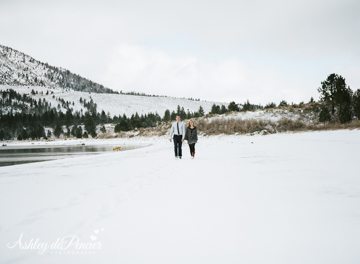 Snow is my new favorite place to photograph!
For James and Lauren's engagement session we traveled to June Lake, California where I had the pleasure of photographing my future cousins-in-law.  Our shoot actually ended up a two days long due to a white out storm on our planned shoot day.  Modeling in 20 degree weather, Lauren and James wore denim with black and Lauren added a chic fur vest for one of their looks.  As the snow became more intense we added a striped blanket to keep the lovebirds cozy. The snow storm turned into a white out and that was when we decided a second day of shooting would be best. Most of our film shooting at ADPFoto is to add a little something special. For James and Lauren, we shot half of their session in film!
Day two was fun.We rode the chairlift and were able to capture breathtaking photos from the air. Lauren and James got silly and it was great to capture this aspect of their personalities. Bodie and Maddie, their two dogs, also made if for some of the photos. They didn't enjoy posing but sure liked doing their own thing! We ended our session in the very place James proposed; Lauren in a darling black dress and red boots and James in a chic tie and jeans. We may have been snowed out for a bit, but love was surely all around us.