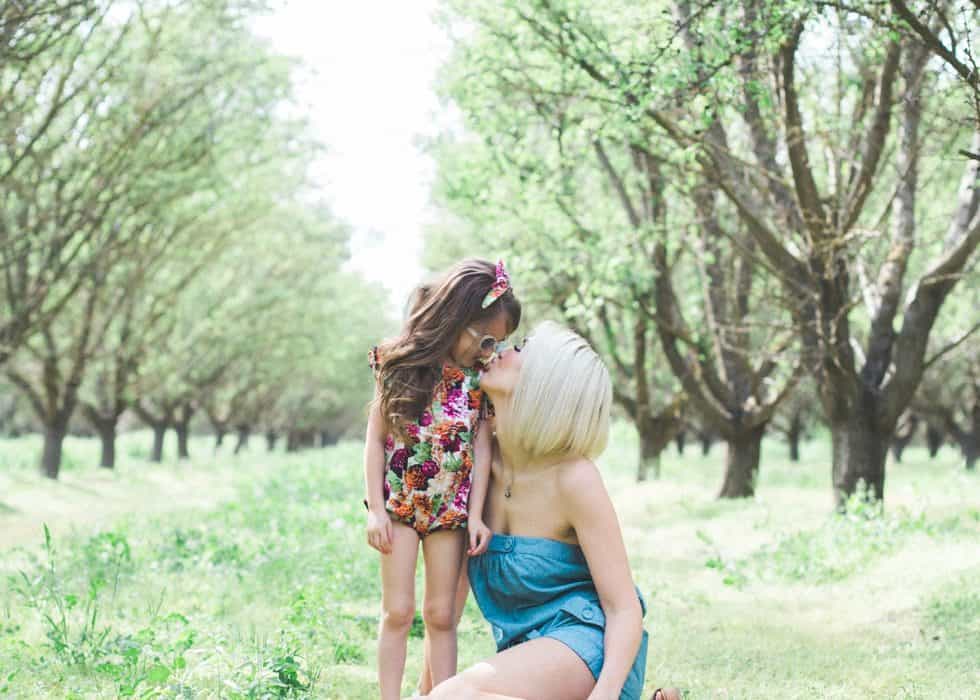 Keri and Giuliana had a Mother Daughter session in the almond orchards. Mommy daughter photo shoots are always so special, especially with little girls. These two were absolutely ADORABLE and I just couldn't get over how amazing they were to photograph. Keri was absolutely stunning and Giuliana is nothing short of a model, I mean, look at ALL THAT HAIR.  For their first outfits, Keri was in a jean shorts romper and Giuliana wore a floral shorts romper with the cutest back I've seen. Keri's second outfit was a long pink dress and Giuliana sported a blue flower dress with tulle.
The almond trees resembled an enchanted forest after all of the blooms fell onto the overgrown green goodness of the field. It was absolutely magical. The lighting was perfect…falling through the trees right where it needed to be. We really couldn't have asked for a more picture perfect setting for these two!
Keri runs the Stockdale Exclusive Magazine and I write a monthly article for her! It was so much fun being able to photograph her and Giuliana!
Lastly, congrats to both of these lovelies for their recent pageant wins!