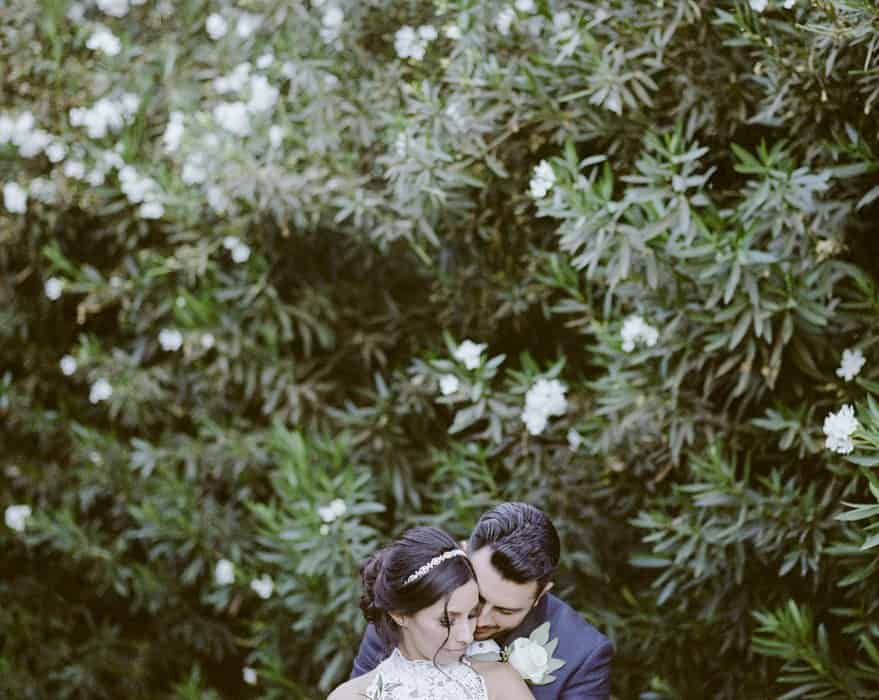 Michelle and Larry are, for starters, awesome!  They loved taking photos with us so much that they even joked about not letting anybody into the wedding and just taking pics all day (talk about my kind of client!)
Their wedding took place at R Wedding House in Dinuba California.  It had all the things that I truly love…an outdoor ceremony, farm tables, gold silverware, a fun bridal party, and a fantastic bride and groom….OH and their cake table…YES!
We shot film at this wedding (of course).  I have so many favorite images from this wedding.
Michelle and Larry did a first look prior to their ceremony, she had on this GORGEOUS lace mermaid dress with a high collar that hugged her figure perfectly.  I absolutely loved everything about it.  Larry wore a very sharp navy blue suit.  (my favorite color on grooms)
They kept it small and special with only 3 attendants in their bridal party (and all family…the best man was Larry's brother while the two bride's maids were Michelle's sister and sister-in-law) Their color palate fit the venue perfectly.  The girls blush dresses stood out from all the greenery so beautifully. Michelle had a surprise for Larry on the wedding day….she had TWO dresses.  We changed her at the reception (prior to the first dance).  Larry didn't notice all night.  It was pretty funny, after about 5 minutes it turned into a game between myself, the bride, and the bridesmaids.  I got a text from Michelle the next day to let me know the results.  We were all cracking up.
Michelle and Larry were full of life and love…they danced their way into their reception, danced a choreographed dance for their first dance, and on our way out, they posed in front of a vintage limo for their last photo of the night.  Such great friends and people.  We just loved everyone!  Can't wait till the next time I get to photograph these lovelies.